Ana Isabel Gómez Carretero
SERLAB
Research Group Meeting
Presentation
Ana Isabel Gómez Carretero
28 February 2018
Dipartimento di Informatica – Università degli Studi di Bari
Via Orabona, 4 – 70125 – Bari
Tel:+39.080.5443270 | Fax:+39.080.5442536
serlab.di.uniba.it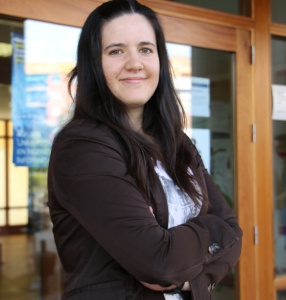 Ana Isabel Gómez Carretero
PhD Student
Directors: Mario Piattini &
Ismael Caballero
Short CV
    Education & Training
BsC and MsC in Computer Science (UCLM)
Data Protection Universitary Expert (UNED)
CISA (Certified Information Systems Auditor – ISACA)
    Work Experience
Research Assistant in Alarcos Research Group (3 years)
Information Systems Auditor (ISO 12207 & ISO/IEC 15504) (as auditor in practices)
Teacher in VIU (International University of Valencia)

Risk, Security & Legislation in Information Systems

Associate Professor in UCLM

Computer Networks II
Data Structures

Co-founder of DQTeam S.L. Spin-off UCLM
Co-founder of CireBits Junior Enterprise
    International Standards
National Expert ISO 8000 (ISO TC184/SC4 WG23)
    Publications
Carretero, A. G., Gualo, F., Caballero, I., & Piattini, M. (2017).
MAMD 2.0: Environment for data quality processes implantation
based on ISO 8000-6X and ISO/IEC 33000. Computer Standards &
Interfaces, 54, 139-151.
Carretero, A. G., Freitas, A., Correia, R., & Piattini, M. (2016). A
case study on assessing the organizational maturity of data
management, data quality management and data governance by
means of MAMD. In Proceedings of the 21th International
Conference on Information Quality (ICIQ).
Carretero, A. G., Caballero, I. & Piattini, M. (2016) Evaluación del
nivel de madurez de datos usando MAMD: un estudio de caso. Pp
1-14. CIBSE – Quito, Ecuador.
Carretero, A. G., Caballero, I. & Piattini, M. (2016) MAMD: Towards
a Data Improvement Model based on ISO 8000-6X and ISO/IEC
33000. Pp 241-253. SPICE Confence – Dublin, Ireland
Doctoral Dissertation
    Provisional Tittle:
A framework for the construction and adaptation of
evaluation models for data management, data quality
management and data governance.

Alarcos' Model for Data Improvement (MAMD)
    Objectives
O1. To define a process reference model of
data processes.
O2. To develop an assessment model of
organizational maturity for data processes.
O3. To develop a certification methodology of
data processes organizational maturity.
O4. To develop a bank sector and internet of
things specializations of the framework of data
processes.