Bibiano Rivas
SERLAB
Research Group Meeting
Presentation
Bibiano Rivas
Dipartimento di Informatica-Università degli Studi di Bari
Via Orabona, 4 – 70125 – Bari
Tel:+39.080.5443270 | Fax:+39.080.5442536
Serlab.di.uniba.it
About me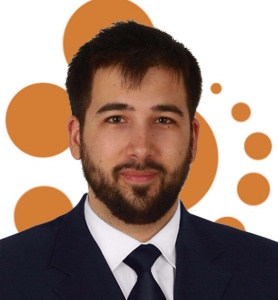 PhD Student at the XXXIII Cycle
Programme in Computer Science and Mathematics
at UNIBA
Tutor: Dra. Maria Teresa Baldassarre
Co-Tutor Prof. Mario Piattini
Short CV (I/II)
EDUCATION & TRAINING
BcS in Computer Science (July 2015) at UCLM
MsC in Computer Science Engineering (October 2016) at UCLM
WORK EXPERIENCE
Research assistant in Alarcos Research Group (from 2015 to 2017)
Co-founder Cirebits JE
Co-founder DQTeam S.L. Spin-off UCLM
OTHERS
Standarization committees participation

ISO/IEC 20547 – JTC 1/WG9 for Big Data. 7-9 July 2015. Ciudad Real (Spain). Attendee
ISO 8000 – TC184/SC4/WG13. 17-19 February 2015. Ciudad Real (Spain). Attendee.

International academic conference organization committees participation

10th IEEE International Conference on Global Software Engineering (ICGSE). 13-16
July 2015. Ciudad Real (Spain). Organization committee staff.
21st International Conference on Information Quality (ICIQ). 21-23 July 2016. Ciudad
Real (Spain). Organization committee staff.

Short CV(II/II)

PUBLICATIONS

I8K|DQ-BigData: I8K Architecture Extension for Data Quality in Big
Data in the MoBiD workshop of the 34th International Conference
on Conceptual Modelling (ER2015).
JCR Q1- Future Generation Computer Systems Journal. "A Data
Quality in Use model for Big Data".
JCR Q2– Computer Software & Interfaces. "Towards a service
architecture for master data exchange based on ISO 8000 with
support to process large datasets".
Infrastructure-Aware Functional Testing of MapReduce Programs.
FiCloud Workshops 2016: 171-176
I8K|DQ-BigData: Extensión Arquitectura I8K para Calidad de Datos
en Big Data. JISBD 2015 Conference, Santander (Spain)
No JCR – Advances in Science, Technology and Engineering
Systems Journal. 2 – 1, pp. 90 – 96. ASTESJ.
"Configuration/Infrastructure-aware testing of MapReduce
programs", 15/01/2017. ISSN 2415-6698
Subject of the Thesis
Provisional Title
A framework for the evaluation and improvement of Data Quality from an
ISO/IEC 25000 perspective
Data Quality
Fitness for use

ISO/IEC 25012

A General data quality model for data

ISO/IEC 25024

Defines data quality measures

ISO 8000-8

Fundamental concepts of information and data quality
Big Data
Objectives
To know the state of the art in the area of data quality, data
management and ISO/IEC 25000 family.
To develop a "Measurement Framework for Data Quality", in
which are defined how volume, velocity and variety should to
be measure and how affects to the data.
To develop a data quality metamodel for store the data
quality measurement results in a data quality repository.
To apply the "Measurement and Evaluation Framework for
Data Quality" in different organizations at national and
international level, in order to validate and refine through
case studies the proposed framework.